An ASTRONOMICAL debt of gratitude goes out to our 2021 Gayla performers! If you loved what you saw, be sure to check them out and support their work!
BE STEADWELL
Be Steadwell is a musician, filmmaker, storyteller from Washington DC. In her live performances, she utilizes looping, vocal layering and beat boxing to compose her songs on stage. Be's original music features earnest lyricism, and ​affirming LGBTQ content. Be's goal as a musician is to make other black girls, queers, introverts and generally marginalized weirdos feel seen and loved.
With a BA from Oberlin College ​and an ​MFA in film ​from ​Howard University​, Be's love for music expands into filmmaking​. Her film Vow of Silence ​screened in film festivals around the world, including Black Star, HBO's OutFest, The Schomburg Center, Inside Out Toronto, and Fringe Fest UK​. Be has shared stages with fellow artist activists Big Freedia, Nona Hendryx, Nikky Finney and Gina Yashere. In 2017 Be sang at The Women's March on the National Mall behind Maxwell and Janelle Monae in Toshi Reagon's Big Lovely Band. In 2019, Be composed the music for The Alvin Ailey Dance Company's production of "the gone". Later that year, Be wrote and directed a musical, A Letter to My Ex​. Be's musical​ tells stories of love- narrating one character's journey through the year following a breakup. ​In 2020, ​Be released her newest album, Succulent.
SASSYBLACK
SassyBlack (Catherine Harris-White) is a multifaceted creative force with a focus in the performing and literary arts. Hailing from Seattle, this Goddess of "psychedelic soul" & "hologram funk" explores sound through deep electronic compositions. A graduate of Cornish College of the Arts, Sassy has fostered a thriving solo career, writing and producing all of her music with over 15 projects released since 2014.
Along with her music, which has been featured on Adult Swim and the new BET series Twenties, her acting prowess has been featured on HBO's Vinyl and Comedy Central's Broad City. Sassy's musical journey is available for listening and purchase through Bandcamp, Spotify & all other streaming platforms.
BIG FREEDIA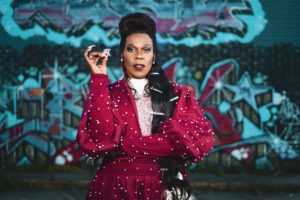 Born and raised in New Orleans, Big Freedia is known as the cultural ambassador of Bounce music, a call and response style hip-hop with a rapid-fire beat indigenous to New Orleans. A staple on the New Orleans club scene for over a decade, Big Freedia moved to the national stage after Hurricane Katrina. One of the first residents to return to New Orleans, her music was considered one of the uniting forces of the ravaged city. After a series of cult hit singles during the mid 2000's, Big Freedia was tapped for a reality show, Big Freedia Bounces Back on Fuse TV. The docu-series followed the life of a choirboy turned Bounce rapper and remains the highest rated original series on the network.
As a result of the show, Big Freedia's became a full-fledged star, releasing her first major label album, 3rd Ward Bounce (Asylum Records) in 2018. Big Freedia In 2016, she was featured on Beyonce's Grammy-winning single, "Formation;" in 2018 on Drake's Nice For What. In 2015, Big Freedia penned her first memoir, Big Freedia: God Save the Queen Diva! on Gallery Books/Simon &amp; Schuster.<br>Big Freedia also lends support to the following charities: Habitat for Humanity, Liberty's Kitchen, Upturn Arts, Youth Run NOLA, Team Gleason, Louisiana Department of Public Health, Dancing Grounds, Southern University, and Xavier University.
hosted by GAYLE EVANS
In the Spring of 1997 on an average day ruled by the 12th House of the Planet Neptune, with the Sun in Pisces and the moon in Scorpio, professional astrologer and amateur psychic Gayle Evans was making one of her regular weekly trips to downtown Olympia to buy her usual Chai tea latte and her favorite brand of Eucalyptus incense.
Suddenly, without warning, she was bathed in a warm light and mysteriously absconded into space by an unknown race of otherworldly beings. The creatures had been lost for ages and invited Gayle on board in the hope she would teach them the ancient art of reading the stars so they could finally return to their home planet.
Then, something even more strange happened, she and her alien abductors bosom buddies! Gayle has therefore remained aboard the ship, traveling the cosmos with the crew as they learn the secrets of the zodiac, search for their long lost home and Gayle has continued to enjoy a 24 year break from the hustle and bustle of Earth. After hearing her home town was in need of a safely quarantined host for this year's virtual Pizza Klatch Gayla, Gayle and her alien friends, have come to the rescue and are thrilled to bring you a truly Inter-Gay-lactic night to remember!
Gayle Evans is portrayed by comedian, previous Gayla performer and PK Staff Member, El Sanchez